Key Takeaway
Dumo Ava is an effective software use to sell courses online, This software offers personalization, marketing prowess, and development possibilities that can genuinely revolutionize your course-selling adventure. By adopting this strategy, you may increase engagement, boost sales, and establish a distinctive brand identity in addition to selling a course. In order to make your online course a stunning success.
Introduction
If you're wondering how to sell courses online, you're not alone. The opportunity to contact your target audience through an online course platform that allows you to achieve income growth on a regular basis is invaluable. In recent times there has been lots of interest to learn just anything online from designs to computing however, the process of creating and selling online courses can be demanding for content creators, this is where DUMO Ava steps in, offering a centralized solution that simplifies and enhances the entire process of selling courses online.
In other words, online courses and online training are in high demand. And, with the global pandemic causing a boom in e-learning that is unlikely to return to pre-pandemic levels, it's a safe bet that online courses will stay a permanent part of the learning landscape.
According to latest research, the worldwide e-learning market will reach $325 billion by 2025. The Compound Annual Growth Rate (CAGR) of 7.5% demonstrates an increasing demand for online content and digitalization. Here are a few reasons why:
Businesses from all industries have begun to use online training solutions, taking advantage of the eLearning market's varied and effective online course platforms. They save time, money, and difficulty by transferring their instruction online.
Young people are choosing online education provided by recognized educational institutions like Chigisoft Academy, instead of traditional higher education and the notorious loan obligations that go along with it.
People enjoy the convenience and flexibility of their own homes. The desire to avoid going to physical classrooms or to adhere to a strict course schedule has also contributed to their interest in exploring new methods of enhancing their talents online.
E-learning is a cost-effective way for people of all ages to achieve their personal development objectives or boost their resumes. Both younger and older groups want to invest in lifetime learning.
In this comprehensive article we would discuss the effective use of Dumo Ava to create, market, and sell courses online, thus empowering content creators.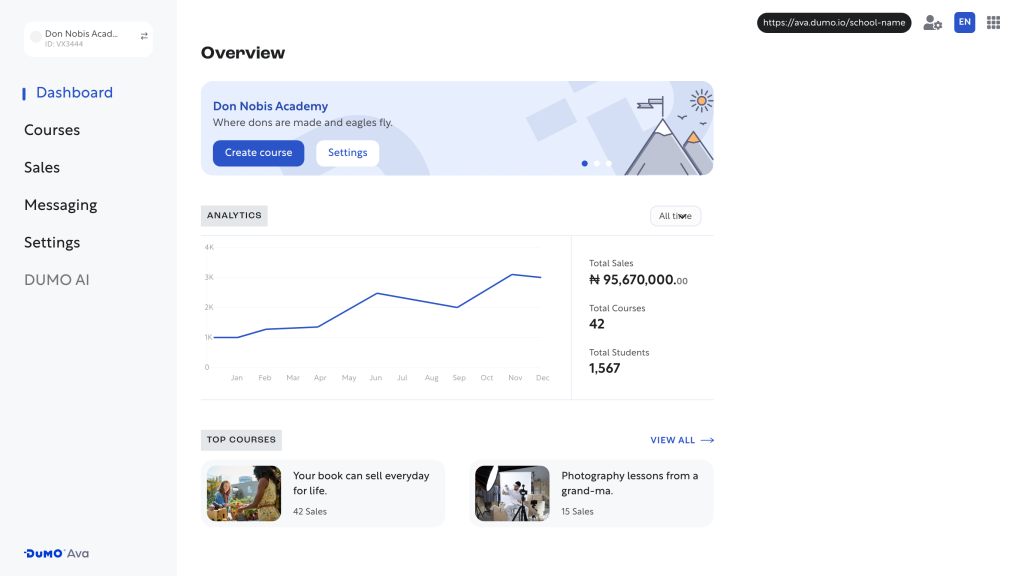 Exploring DUMO Ava an Effective tool to sell courses online
DUMO Ava is a flexible and comprehensive platform for online learning and digital commerce that meets the various requirements of course creators, service providers, and vendors of digital goods. With a myriad of features tailored to streamline the process of creating and sell courses online, DUMO Ava offers a dynamic toolkit that empowers users across various domains. Let's delve into the extensive features that DUMO Ava provides:
Users will be able to create a school on Dumo Ava,
setup school details and publish their courses
Users will be able to buy plans based on what features they want from Dumo Ava
User can manage their sales for courses
upload courses [courses can be in the form of Webinar(single video replay) or full course]
Create course categories
View your sales history (see details of each sale you've made). You can also manually record a sale of it was done outside the platform
View a list of your customers and see their details including courses they've registered for
Send messages (email, SMS, WhatsApp) and lots more
Where to Sell courses Online
Dumo Ava is one of the popular course platforms that enable you to sell courses online through your own branded software
Pros: All-in-one option that integrates with third-party tools to enhance functionality, ability to promote your brand with white labeling and connect with your audience through built-in communities, and to track your academy's performance with analytics.
Cons: Some level of tech-savviness is required. But we will happy to have a section with you
Why Create & Sell courses online?
Selling an online course can benefit you in a number of ways, regardless of whether you're a coach, an entrepreneur offering a good or service, knowledgeable in a profession, or skilled in any kind of talent.
1. Strengthen your brand online
You might already have a blog, a podcast, a YouTube channel, or other online presence. You might also be a rising coach or a keynote speaker at conferences for your profession. Your audience will learn more about who you are and what you stand for as a result of you sharing your knowledge and skills through an online course.
2. Help your audience achieve their objectives.
Don't undervalue the importance of your course or the positive effects that sharing your knowledge can have on other people. Your course might be the chance they've been seeking for to start a new pastime, advance their job, work on their personal growth, gain confidence, or just have some fun learning about something they're passionate about. They will be happier and closer to their goals if they follow your plan,
3. Earn money in a passive way
A single eLearning course can be created, updated frequently, and sold for a very long time without having to start from scratch. Really cool, no? Additionally, you can start building your course without spending a fortune.
A great side business to start as a hobby is course authoring. But if it goes well, with clever marketing and top-notch content, it may become your new full-time job or even a respectable source of passive income. Online courses are easier to make, take less time, and don't have any delivery expenses. Meanwhile, you have a product that can be sold indefinitely.
4. Develop a devoted audience
You are advertising yourself while you advertise and market your online course. More people learn about you and your abilities to assist them. A good course can also help you connect with your audience and convert them into devoted, repeat consumers. Why? Because it greatly raises the value customers receive from you—whether it's your good or service or the skills you can impart—in a meaningful way.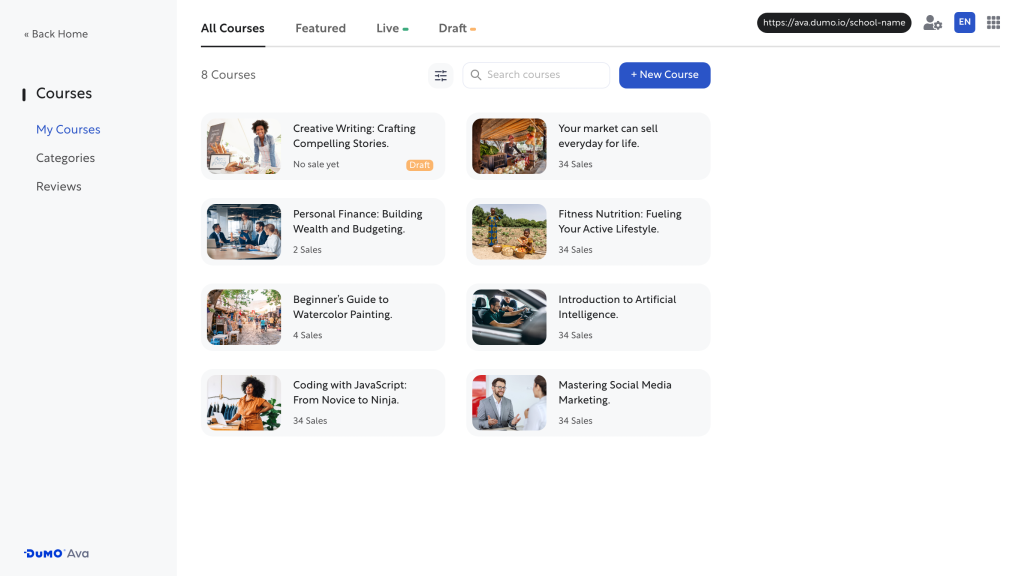 Related Article
The Best Software Development company
Dumo business cloud for business processes
Conclusion
With these points, you should have a good concept of what it takes to produce, sell online courses, and build an online business. Building a lucrative online course business, like any other form of business, requires more than just generating a product, launching a sales page, and hoping for clients to appear out of nowhere.
Your unique selling point must be crystal obvious from the outset in a market where competition and customer expectations are rising constantly. Building an audience and enhancing your standing as a subject matter expert and instructor require time and work on your part. It goes without saying that you must give your consumers a fantastic learning experience.
The good news is that none of this is out of reach, and hopefully this article has helped you understand how to do it. The rest is up to you, but if you would like ongoing support as you build your online course and online business, be sure to Contact us for more inquiries on how to sell courses online with Dumo Ava.