In the tech industry there have always been a buzz around the distinctive differences between Product Design and Product Management, this is because of their similarities and differences in the field of design even though they reflect different stages of the product development process. Since you are reading this article you are definitely a fan of product design(UI/UX) or product management and you want to make a decision on the best Bootcamp option to opt for, well you are on the right page.
Even with their diverse interests, duties, and skill sets, the roles of product manager and designer both play a part in the development of successful products, and an understanding of their differences would enable individuals seeking career opportunities in these fields make informed choices based on their strengths, interests, and professional aspirations. Additionally it would help organizations effectively allocate resources, streamline communication, and foster collaboration between product management and product design teams. By recognizing the unique contributions of each role, companies can optimize their product development efforts and deliver exceptional products that meet user needs and drive business growth.
In this comprehensive guide we will learn about the differences between product design and product management, what they entail, Their skill set, Job opportunities and applications in various industry and lots more

What is Product Management and Product Design
Product Management is a business discipline concerned with the strategic planning, development, and execution of a product or product line. Identifying client needs, creating product features, prioritizing requirements, and monitoring the full product lifecycle are all part of the job. A product manager is the person who identifies the customer need and the larger business objectives that a product or feature will fulfill, articulates what success looks like for a product, and rallies a team to turn that vision into a reality. The product manager Acts as the customer advocate articulating the user's and/or buyer's needs. Works closely with engineering, sales, marketing, and support to ensure business aligns with the company's vision and meets the needs of its target market.
Product design on the other hand is the process of creating and developing the visual and functional aspects of a product. It describes the process of imagining, creating, and iterating products that solve users' problems or address specific needs in a given market.
The key to successful product design is understanding the end-user customer, the person for whom the product is being created. Product designers attempt to solve real problems for real people by using empathy and knowledge of their prospective customers' habits, behaviors, frustrations, needs, and wants.
Learn more: The Best Product Design Bootcamp (UX/UI) Online
Key Differences between Product Management and Product Design
There are several differences between the product management and product design career path, but in this content we will focus on their skillset and expertise, the scope of responsibility between a product designer and product management, the level of stakeholder engagements their toolset and am sure you are curious to learn about how much they are paid and which of them have a higher demand in the tech space. We got you covered,
1.The Skillset and expertise required
The skill set of a product designer comprises of the following;
User Research
Wireframes
Design System
UX Documentation
Information Architecture
User Flows and Journeys
Visual UI Design
Figma
While a product Manager will possess the following skills;
Product Discovery
User Flows and Journeys
User Research
Design System
Product Documentation
Design Thinking
Figjam
2. Focus and scope of responsibilities
Product strategy vs. User experience:
When it comes to their tasks, product management and product design have separate priorities. The focus of a product manager is to identifies the customer need and the larger business objectives that a product or feature will fulfill, articulates what success looks like for a product, and rallies a team to turn that vision into a reality. They consider the current market trends, competition, and financial factors to determine the product roadmap and prioritize features.
On the other hand, product designers place a strong emphasis on user experience. They are concerned with creating products that are intuitive, visually appealing, and provide a seamless experience to the end-users. They conduct user research, gather feedback, and iterate on designs to ensure that the product meets user needs and delivers a positive user experience.
Business goals vs. User needs:
Another key distinction between product management and product design lies in the focus on business goals and user needs. Product managers are responsible for understanding and driving business goals. They need to balance the needs of different stakeholders, including the company, investors, and customers. They analyze market trends, conduct market research, and define product features and functionalities that align with the company's strategic objectives. Product managers are accountable for product profitability, revenue targets, and market share.
Conversely, product designers prioritize user needs and advocate for the end-users throughout the product development process. They delve into user research, conduct usability tests, and analyze user feedback to gain insights into user behaviors, pain points, and desires. By understanding user needs, product designers can create user-centered designs that address specific problems and enhance the overall user experience.
3. Stakeholder interactions
It is the product manager's responsibility to ensure that their partners are aligned on the product roadmap and partners give all possible support to solve users' problems and make the product successful. This is that part of the job which is popularly known as stakeholder management. On the other hand the product designer interact with various stakeholders to gather insights, align goals, and ensure the product's success from product discovery stage down to launch.
4. Working tools used in Product Design and Product Management
Figma and Adobe XD are online design tool that works in web browsers and also on some native apps to allow for offline work. It's one of the most popular design tools for many reasons, and, because it is web-based, many Product Designers and product Managers find it to be preferable, though product managers uses Figjam feature on Figma.
5. How much are Product Managers and Product Designer paid?
The average earnings of a UI designer is $92K/year in the global market. A senior product designer could earn up to $300K/year. Product design as a career consists of several parts and which cannot be exhausted in a few months. However, you can learn enough to become a good UX designer and start earning immediately after this Bootcamp.
While The average product manager salary in the USA is $125,000 per year or $60.10 per hour. Entry level positions start at $99,973 per year while most experienced workers make up to $162,797 per year.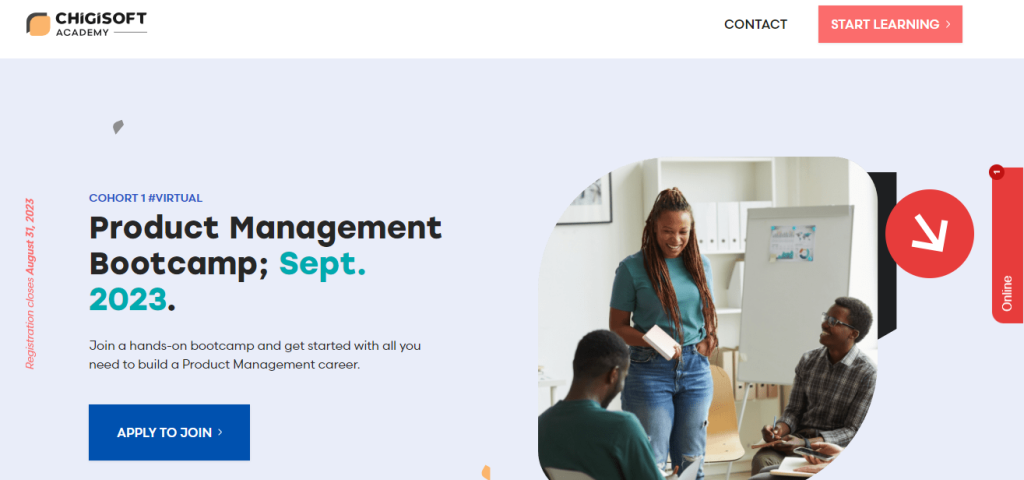 Where to Learn product Design and Project Management
Wondering where you could learn either of this skills? Chigisoft stands out as a leading provider of tech learning resources in Nigeria. With its comprehensive courses, expert instructors, hands-on learning approach, interactive environment, career support, and accessibility, Chigisoft empowers individuals to acquire the necessary skills to thrive in the digital era. Whether you are a beginner or an experienced professional, Chigisoft is your gateway to unlocking endless possibilities in the world of technology.
Whether you choose to specialise in Product Design or Product Management continuous learning and practical application of these skills will help you thrive in the dynamic tech industry. Join our 12 weeks intensive Product design Bootcamp which has proven to open doors and job opportunities at home and abroad. For more information about our Training, please visit Chigisoft Academy or contact our sales team at +2348056095332
Current Trends in Product Management
In the ever-evolving product management landscape, artificial intelligence has recently taken center stage. AI Product Managers now play a crucial role in leveraging data-driven insights to make informed decisions and closely monitor product performance. They can harness AI-power to develop product strategies and lead cross-functional teams within their organizations to identify market needs, validate product hypotheses, and create AI models that can fulfill the product's function. All you need to know about getting started in AI Product Management in this insightful article by leading talent marketplace, Toptal.
Contact Chigisoft:
Email: [email protected]
Phone: +234 915 6192 053
Address: Plot 25, Road 7, Ist Avenue, Mgbuoba, Port Harcourt
Conclusion
Product Management and Product Design have different goals and objectives during the product development process. The main goals of product management is to define the overall strategy, find market opportunities, and make sure the product is in line with the company's goals and objectives while Product design focuses on user experience, creating simple yet attractive solutions that cater to the target audiences unique demands and preferences.
While the product designer concentrates on the "how" of producing a wonderful user experience, product management concentrates on the "what" and "why" of the product. To successfully develop a solution that not only achieves business objectives but also resonates with end users, product managers and designers must work together and communicate effectively.
In the end, a product's success on the market is ultimately dependent on the collaboration between product management and product design, which fosters innovation, moulds user-centric goods, and fosters user-centric products. Organisations may develop products that not only satisfy customer expectations but also market demands by utilising the distinct qualities of each function and encouraging a collaborative environment. This will eventually help them succeed over the long term in the current competitive environment.
Contact Chigisoft for more enquiries
Related Article;
What are the tech skills trends for 2023?
The benefits of enrolling in a Product Management Bootcamp
The effective way to sell courses online