On Wednesday, July 5, 2023, Chigisoft Academy began registration for their Product Design Bootcamp Cohort 8 worldwide, starting from August 14 to October 31 Reports PRLOG. The product Design Bootcamp is a 12 weeks intensive course on product design organised by experts to teach beginners the fundamentals and professional approach to design through hands-on workshops covering user interface design, user experience design, collaboration with product teams, and setting them off to acquire that dream job in the shortest time possible.
The Chigisoft Academy director, Veracious confirmed how impactful the product design exercise would empower youths to start their career in tech in a statement;
"At Chigisoft, students are exposed to industry experience, distinguishing this Product Design Bootcamp from others. We have partnered with some of Nigeria's biggest software Companies, who provide our students with live projects to work on with deadlines. So our students get a taste of what it's like to be a product designer for a firm, working with time limitations"
Product Design Bootcamps are regarded as one of the best entry points into the UI/UX design profession, which can be extremely profitable and fulfilling. A product design boot camp offers many advantages, including flexible, self-paced learning and an in-depth, practical education.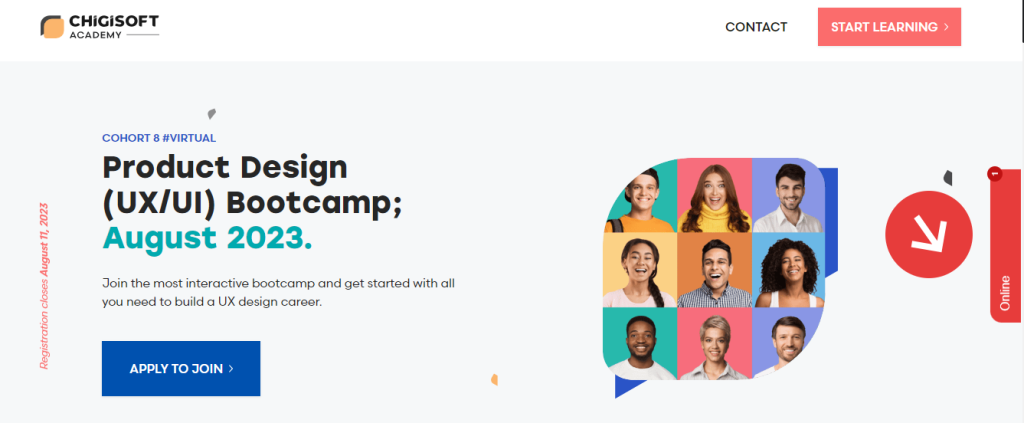 How much is Chigisoft Product Design Bootcamp
Chigisoft Academy offers a flexible payment method for their online Bootcamp at an affordable rate during your Training:
One-time payment: $500; ₦350,000; Ksh 60,000
Two-part payment: $275; ₦200,000; Ksh 35,000
Three-part payment: $200; ₦150,000; Ksh 25,000
Investing in yourself is the greatest investment! This 12 weeks investment has proven to open doors and job opportunities at home and abroad. One thing to note is that investing in yourself as a product designer is the best decision you could ever make because of the worth of this skill in the global market. For example, a UI designer's annual salary in the worldwide market is $92K. A senior product designer can earn up to $300,000 per year. Product design is a multifaceted vocation that cannot be completed in a few months. However, you can learn enough to become a competent UX designer and earn money immediately after finishing this boot camp.
The boot camp has been designed to be entirely hands-on, as we will produce documentation and build an entire application. We'll show you how to become a Product Designer.
Benefits of Product Design Bootcamps
Product Design Bootcamp can lead to several product design job opportunities, particularly in user experience (UX) design, user interface (UI) design, and interaction design. Following completion of a product design boot camp, you will be able to pursue the following job opportunities:
Product Designer:
After completing the boot camp program, job opportunities as a product designer are open. This entails being involved in all stages of the product design process, including the early stages of research and concept formulation and continuing with prototyping and testing. The product designer is responsible for the design approach and considers the user experience and the commercial goals of the product. They collaborate with various tech pros like the software developer to ensure the product meets the consumer's needs while aligning with the company's aims.
UX Designer:
This is one of the many job opportunities after a product design Bootcamp. As a UX designer, you would develop simple, user-friendly interfaces for digital products. To guarantee a seamless user experience, you must conduct user research, create wireframes and prototypes, and work with cross-functional teams. Industry sectors where UX designers frequently work include technology, software development, e-commerce, and digital agency.
UI Designer:
You can also work as a UI designer and gain expertise in various digital products' interactive and visual components. This can be done by developing interface components like buttons, icons, and layout compositions. As a User Interface (UI) Designer, you would collaborate with a User Experience (UX) designer to create an intuitive and visually appealing interface for product design. They focus on the look and feel of the interface to ensure a seamless user experience.
Note that the opportunities open to a product designer are diverse and not limited to those mentioned above.
About Chigisoft
Chigisoft is a leading software and ICT company known for its cutting-edge and state-of-the-art solutions. We provide cost-effective, scalable, and secure ICT solutions that help businesses thrive in today's dynamic market, with our unwavering commitment to innovation, reliability, and impactful contributions amongst young people. We are proud to empower youths through our 12 weeks intensive Product design bootcamp which has proven to open doors and job opportunities at home and abroad. For more information about our Training, please visit Chigisoft Academy or contact our sales team at +2348056095332